Vinayak Pandit, Founder and Managing Director, Pako Technologies Private Limited (formerly Pako Communications Pvt Ltd), has been busy for the past few years. Although the company has been around for nearly two decades, it has been only recently that it has been able to achieve a big breakthrough. And this has meant that company will soon be able to start manufacturing hi-tech electronics products earlier sourced from Taiwan.
Pako, which works in the custom design of hardware electronics for specific sectors, has had a great success with a recently launched product for the city bus (mass transportation) sector. The product is actually a device which tracks the bus location as well as monitors its health. Both have impacts for the user, the former service addressing the ever-increasing need for security of passengers while the latter addresses the often overlooked issue of maintenance and regular upkeep of public property which usually means neglect. This latter issue has a multi-fold impact, since lack of maintenance of a bus means it pollutes in an all-too-familiar manner while consuming more fuel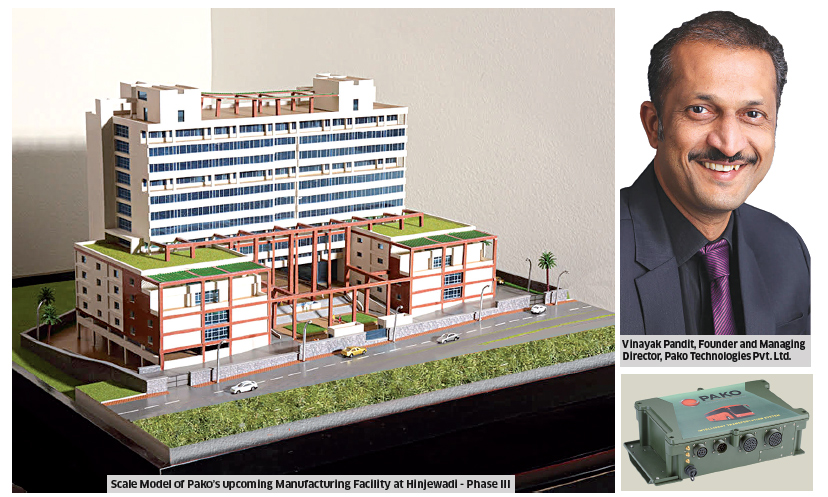 "We identify niche areas where we can make a difference by offering India specific features, adding value to the product offering, without losing the sight of all-important issue of aggressively pricing it in the domestic market," Mr. Pandit explained, adding that they operate solely in the business to business (B2B) sector for high-end platforms hence although they do electronics hardware, it is not consumer facing. Moreover, since they work through systems integrators, the brand that appears on the end product is not Pako. Hence it's relative low public profile, though industry veterans are well aware of the brand. The runaway success of this new product has meant that Pako is now going to step up its presence which it is doing by setting up a brand new manufacturing facility, spread over 1.5 lakh sq ft in the first phase. This is part of a plan which envisages a larger facility, of 4.5 lakh sq ft on a four acre plot in the third phase of the Hinjewadi IT Park near Pune.
"We have been getting our work done from several manufacturers located in that island country for the past 18 years. Now, we are getting ready with our own manufacturing facility," Mr. Pandit said.
"We have been doing design and development at our Pune facility for the past many years, and getting it manufactured at the quality manufacturing hub, Taiwan" This is a major achievement for a company that is focused on low volumes, and a high mix of products. Mr. Pandit added, "We won't be manufacturing just one product; the product mix will be high. We address needs primarily of the automotive, healthcare and defence sectors. Additionally, we do work in the industrial automation sector."
While non-disclosure terms mean that he cannot talk about specific products, Mr. Pandit said they work with the public and private sectors in the defence space, with the large multinational corporations in the healthcare sector (for hi-tech equipment). He noted that a project driven approach of the government means that eventually all sectors will grow. Also, given the central government's declared intention of sourcing high levels of hi-tech products from Indian companies under the Make in India and Digital India programmes, the fallout benefit for Pako is that the offset policies of these sectors will benefit it.
"The government's offset policy, under which 30 per cent of the products that go into the making of an end product have tobe sourced from within the country is a big boost for our plans," Vinayak said.
A computer science graduate from Pune's illustrious SP College, Vinayak Pandit had set out with the intention of never holding a salaried job; he was going to be his own boss. The first office Vinayak owned resembled a silicon valley startup in the golden era, when setups were in garages. Evolving with the time, latching on to opportunities when they presented Vinayak quickly moved out of the computer service business and into distribution, support and service of complex IT products, which have been heavily imported by many sectors.
Company has developed design capability with outsourced manufacturing in Taiwan. He admitted that initially he felt bad that Indian customers were not a priority for the manufacturers but realised that this was a business decision: the volumes from India just could not compare with those of the MNCs. That led him to evolve his philosophy: "gain your independence and control your priorities to meet customer requirements."
"In the next five years we aim to achieve self-reliance in manufacturing and gain independence from outside influences, especially in the complex electronics sectors." he said. Pandit expressed a view, also shared by the manufacturing sector, that it is a good thing the software sector is going through a rough patch with most countries stopping or reducing the numbers of Indians who can go for on-site work (that whole H1-B visa issue of the US and its counterparts in Australia, New Zealand and the UK).
"The software industry needs a reduced focus and the current situation means that fewer people will go to this sector. For long-term sustainability, manufacturing must grow.
"The software industry requires low capital investment so it can bench and then let go large numbers of people, even shut shop overnight. That is not the case with the manufacturing industry. Also, the slowdown in the software industry means that resources, the engineers, are freed up and become available for the manufacturing sector. And once manufacturing in India grows, the country will become attractive to global industry."
Industry veterans have been talking for the past several years that the next wave should be the convergence of the hardware and software sectors to create Electronic System Design and Manufacturing (ESDM). The role model that these veterans were seeking for ESDM was that of the automotive sector where a tierised system of vendors supply the original equipment manufacturer (the OEM). On these lines, local entities could become vendors to global companies, the example usually cited being that of Taiwan-based companies who work on projects for global majors for committed volumes, usually in multiples of a million over a two-three year period.
While Pako is not in the high volumes business, it is seeking to replicate the Taiwanese model to the extent of manufacturing electronics hardware within the country
With the government having set out not only the offset policy, but also the Make in India and Smart City programmes, there is a huge upcoming demand for complex electronics hardware expertise. Pako is empowered by a highly experienced team of engineers and skilled manpower who understand the nitty gritty of complex IT hardware manufacturing. Their personnel are well versed with industry standards and protocols, thus saving their customers the need to expend time in hiring local resources and this rationalising overall costs.
"We expect to take off once our new manufacturing facility is ready but it has taken us three years to get to this level," Pandit said. He went on to say that as demand in India picks up, more overseas manufacturers will want to set up shop here. That is when he expects to be in position to offer them collaborations, joint ventures, contract manufacturing or anything that is needed.
For the home-grown entrepreneur, the dream is to touch revenues of US $ 300 million in the next five years, from the current level of around $ 25 million. The success of the automotive product has meant that the new Rs. 40 crore Phase I facility at Hinjewadi is being funded through internal accruals.
Till now, Vinayak has always realised his dreams and that day is not far away when PAKO crosses the Rs. 1000 crore mark. Pandit is greatly supported by his wife Monali who is actively involved in the administrative aspects of the business.
Economic Times
- Success Stories of Maharashtra
Published Date - 17th May 2017